MANILA, Philippines – Reigning Miss Universe Gabriela Isler of Venezuela will continue helping the survivors of Yolanda together with The Miss Universe Organization (MUO) and the Dutch development agency CORDAID.
Gabriela became emotional during her speech at the private event held at the Philippine Consulate General in New York last Nov. 12. "After I finished my studies," she said, "I wondered what I would be doing in my life, the Miss Venezuela Pageant came and then later on I was crowned Miss Universe. That was one of the happiest moments of my life!
"When I had the opportunity to help the people of Coron, Palawan, and the Banuang Daan community, I knew this is what I want to do in life — to help people!"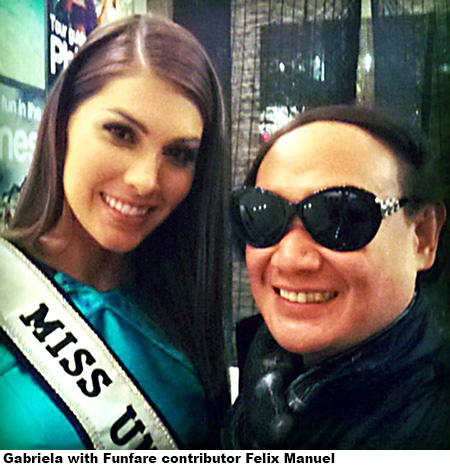 MUO president Paula Shugart said that during the time of the pageant last year, while Yolanda was battering the Philippines, they were already thinking how to give back knowing that the Philippines is home to the biggest and most passionate fan base of Miss Universe.
"As an admiral's child, I have grown up with many Filipinos, I think lumpia was the first food I ever had," she recalled.
CORDAID's shelter specialist and business development manager Jan-Willem Wegdam emphasized the help the organization has done in Coron, Palawan and Guiuan, Eastern Samar. He reminded everyone that helping to rebuild will take years and they are ready for it.
Consul General Mario Lopez de Leon praised the MUO and CORDAID for the gargantuan task they have accomplished and will continue to do for the survivors of the world's strongest typhoon.
Read more: http://www.philstar.com/entertainment/2014/11/19/1393373/reigning-miss-u-vows-continue-helping-yolanda-survivors