CORON, Palawan — I took 720 steps up Mt. Tapyas to get a panoramic view of Coron from its peak marked by a giant Crucifix that glows like a guiding light at night. Halfway at 350-plus steps one-inch high each, I thought that I had done good enough until a slightly-overweight lady told me panting, "I am determined to make it to the top! I won't leave Coron until I do." Oops! If she could, why couldn't I?  
Together with other local and foreign tourists, I marvelled at the breathtaking scenes all around: yonder, what the locals describe as The Twin Sleeping Giants formed by a cluster of mountains; the sprawling Coron town surrounded by the sparkling Coron Bay; the magnificent sunset; and other natural wonders that could only have been created by The Great Architect.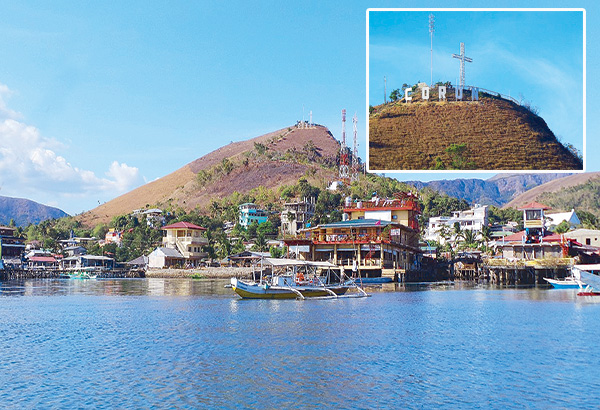 There wasn't really much to see in the town where semi-retired singer Aristeo Demavivas booked Raoul Tidalgo and me at a room in Gateway Coron Hotel (which he used to manage and, is it true, where Kris Aquino and company once stayed?), a few steps to where the motorized boats were docked, ready to bring you around the dozens of islands which are, according to Aristeo, the main attractions of Coron ranked as No. 1 "must-visit" destination in the world by a top travel magazine.
"Coron is part of the Calamianes Group of Islands, almost 600 in all, that form what is called the Crown Jewels of Palawan," Aristeo educated us. "It's in the northern tip of the province, near Mindoro, 45 minutes by plane from Manila; while Puerto Princesa (among its attractions is the Undergound River, recently declared one of the world's Seven Wonders) is at the southern tip near Mindanao. The plane lands in Busuanga; Coron is 30 minutes drive away."
So many islands to conquer but, sob and sigh, with so little time to spare. Here are a few of those we visited:
 Siete Pecados. You can snorkel or simply take a dip in the cool, blue-green water. (Trivia: Must be where Pinky Webb, a frequent Coron visitor, enjoys snorkeling.) Aristeo said that the island was, according to legend, named after seven sisters who defied their strict father's refusal to let them attend a party and were cast away.
Kayangan Lake nestled between mountains. Take 75 steps up the side of a mountain and, voila, what greets you at the other side is another lake. Dive right in, the water's fine! (Trivia from the guide: Venus Raj and her family swam there during a recent visit.)
The Skeletal Wreck where some of the 29 Japanese warships were sunk by American warplanes during World War II while the unaware enemies were leisurely skiing. "That's where the Japanese warships docked in hiding and where the Japanese soldiers had their R&R," said Aristeo who knows the islands as well as the lines on his palms.
Ditaytayan Island where you find probably the world's longest Sand Bar. "This is where a retirement resort is being planned, exclusively for those 70 and above," said Aristeo. "It is heaven for senior citizens who long for peace and quiet, with the waves creating a musical sound at night."
One of the iconic sights is the area between two mountains immortalized at the end of the Hollywood film The Bourne Legacy with Jeremy Renner and Rachel Weisz on a motorized boat speeding seemingly towards eternity. What we missed: The Culion Museum on yet another island which used to house lepers many years ago.
We capped our three-day (very short) visit with a dip at the 40-degree Maquinit Hotspring (yes, sea water said to have healing effects) at the outskirts of Coron town. Soothing, a balm for tired muscles and frayed nerves. (Trivia: That's where Zsa Zsa Padilla and boyfriend Conrad Onglao, together with Zsa Zsa's daughter Karylle and husband Yael Yuzon, ended a hard day's tour recently.)
(For more information about Coron, call Aristeo Demavivas, general-manager and vice president for operations of 7107 Islands Management, Inc., at 887-2888/812-3456/810-3456 local 3535; or 0917-8227473; or direct line 887-7107.)
Read more: http://www.philstar.com/entertainment/2015/05/06/1451568/carefree-coron-or-what-first-timer-discovered-about-crown-jewels