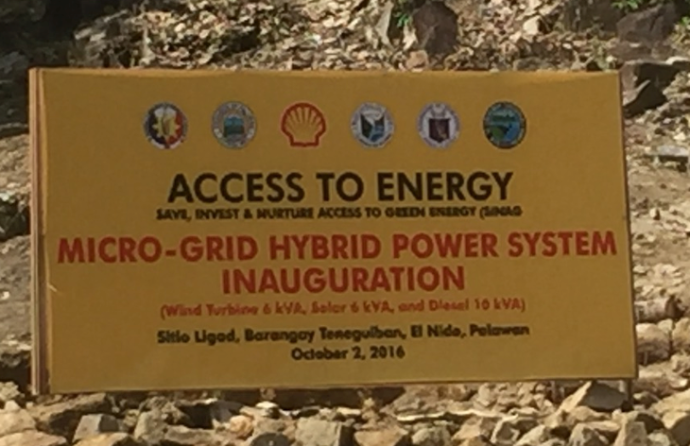 INSTALLING microgrids in Palawan can connect the northernmost part of the province to the main grid, according to a legislator.
Senator Sherwin Gatchalian said in a chance interview that state-run National Power Corp. (Napocor)'s plan to energize about 200 households for P3 billion "opens up the idea to the microgrid."
Gatchalian, who heads the Senate energy committee, explained that when they deliberated on Napocor's fiscal budget, the proposal was not viable since it would only involve small municipalities.
The senator has yet to file a bill on the promotion of microgrids. A microgrid is a small network of electricity users with a local source of supply that is usually attached to a centralized national grid but is able to function independently, since it would impact the franchise areas of electric cooperatives (ECs).
Under the proposed bill, all proponents would be allowed to put up microgrids which should be self-sustaining, meaning the proponents will be producing and distributing power supply.
As much as possible, he said no incentive will be given to interested firms so that revenue will not be taken out of government coffers, but he noted that a framework is needed to entice them to invest.
Gatchalian said several entities have expressed interest in the concept which is economical and promotes competition.
"We have to look at the technologies and one of the most salient technologies right now is the microgrid system," the lawmaker said.
Gatchalian said they are currently reviewing a draft policy on rural electrification submitted by the National Electrification Administration (NEA), which would pave the way for the integration of microgrids in the system and the participation of the private sector in the program.
Under the proposed guidelines, private investors would bear the risk of running the distribution of power via the microgrid, but the Energy Regulatory Commission (ERC) will still regulate these private entities.
Source: http://www.manilatimes.net/microgrids-can-connect-palawan-main-system/357811/