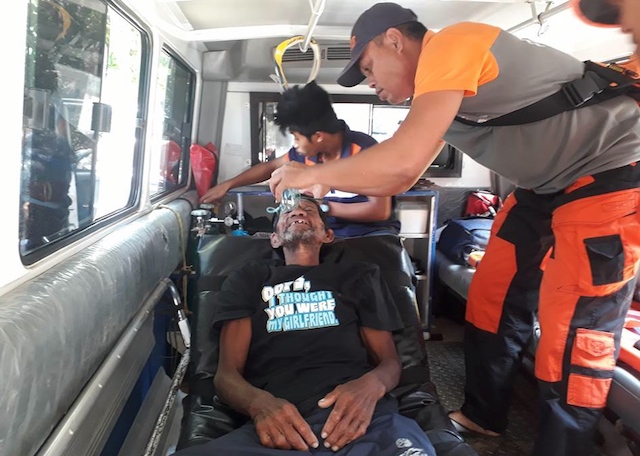 A FISHERMAN from Puerto Princesa City, Palawan, who was reported missing since last week was rescued Monday, October 23, in the waters of Sipalay City, Negros Occidental. His companion has remained missing. Lieutenant Senior Grade Jimmy Vingno, chief of Philippine Coast Guard (PCG)-Bacolod, said 65-year-old Orlando Warizal was at sea for almost a week. He was found by fisherman Roger Buhay sitting on a half submerged fishing boat around 11 a.m. on October 23. Warizal was brought to the Sipalay City Hall through the assistance of Sipalay City Emergency and Assistance Services.
He is now in the custody of Coast Guard Station-Bacolod. Vingno said Warizal has no injuries but he's weak because he was not able to eat and drink water for six days.
He added that they already informed Warizal's family about his whereabouts. The fisherman will return to Palawan on Thursday, October 26 via roll-on roll-off (RoRo) vessel. On October 17, Warizal and his friend a certain "Chammy, who is in his early 50's, went fishing despite the bad weather. Big waves hit their fishing boat and his friend fell into the water. Vingno said the PCG in Palawan continues the search and rescue operation.
Source: http://www.sunstar.com.ph/bacolod/local-news/2017/10/25/palawan-fisherman-rescued-sipalay-1-still-missing-571279