JOURNEY TO ECOTOWN. San Vicente, Palawan is transforming into an Ecotown to make its communities climate-resilient and disaster-ready while at the same time contributing to its tourism potential Image from Wiki Commons
MANILA, Philippines – San Vicente town in Palawan is ready to be an ecotown – a locality that is resilient to the impacts of climate change and is well prepared for disaster. (READ: 5 steps to disaster-ready, climate-resilient communities)
An untapped paradise for beach bums, San Vicente boasts 22 islands and islets with fine white sand beaches, azure-blue waters, abundant rainforest, and exotic biodiversity. It's population of more than 30,000 make a living mostly from fishing and agriculture.
It is not spared, however, from the ravages of climate change and global warming.
At the Greeneration Summit organized by the Climate Change Commission on Monday, November 25, San Vicente officials and CCC presented the two phases of assessments they conducted in the last two years – the first crucial steps to its transformation as an ecotown.
The assessments, which cost P2.5 million to conduct, produced data that can now help San Vicente identify which climate change adapation projects they should prioritize – from building more weather stations to launching a public health campaign.
To achieve this, the CCC and San Vicente LGU worked with international organization Global Green Growth Institute which provided technical expertise and funding.
In an earlier interview with Rappler, Jesse Velete, a San Vicente official looking over the process, said their town has completed the first two phases of the program:
1. Natural resource assessment – identifies the town's natural resources like forests, marine ecosystems, flora, fauna, natural gas to come up with an ecological profile. Identifies threats and opportunities based on the profile.
2. Vulnerability assessment – determines which communities, infrastructure, and natural resources are vulnerable to climate change.
It must go through 4 more steps to become a full-fledged ecotown. These steps involve environment and natural resource accounting, implementation of adaptation measures, and getting the funds for building the right infrastructure and building the residents' capacity to adapt to climate change.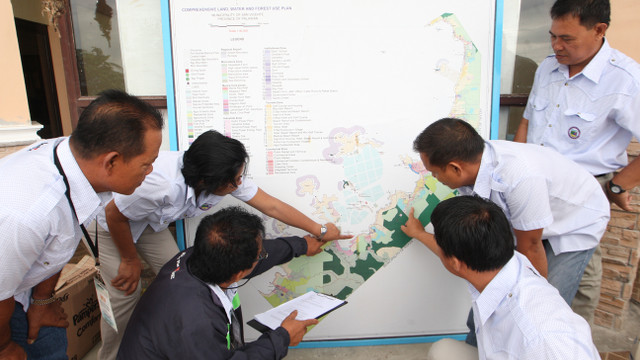 WORKING TOWARDS ECOTOWN. San Vicente local government officials mapped out their town's natural resources and vulnerabilities to climate change and disasters. Photo courtesy of Climate Change Commission
The Ecotown Framework is a priority project of the CCC. It applies the National Climate Change Action Plan to local communities with the goal of making them fully climate resilient and disaster-ready by 2028. (READ:The role of LGUs, local councils during disasters)
It does this by creating programs for food security, water sufficiency, ecosystem and environmental stability, human security, sustainable energy, capacity development, and climate-smart industries on the local level.
Next tourism destination
In San Vicente, total annual rainfall from 2011 to 2012 increased by 13.39%. The town is frequented by ever stronger typhoons. Excessive rain leads to flooding in low-lying areas and landslides, destroying crops and washing out soil nutrients needed for farming.
An El Niño phenomenon (the abnormal warming of sea waters) in 2010 caused coral bleaching, damaging more than 10% of its live corals.
These are just some effects of climate change an ecotown can withstand and adapt to.
To be an ecotown means to have fully-integrated climate change adaptation measures in the policies and programs of the local government. It means adjusting and preparing all the town's sectors for climate change impacts like drought, heatwaves, storm surge, and more frequent typhoons. (READ: Are we ready for another Ondoy?)
Because the ecotown program aims to help communities prosper economically while pursuing green programs, the data also points out how San Vicente can achieve their dream of becoming the next Philippine tourist destination.
Here is the data from their natural resource and vulnerability assessment, and a list of priority climate change measures they aim to implement:
San Vicente, Palawan, Natural Resource/Vulnerability Assessment

|   | Agriculture | Coastal and marine | Forestry | Health |
| --- | --- | --- | --- | --- |
| Challenges | Rice, despite being the dominant crop, is planted in less land compared to assorted cropsSingle-cropping will lead to rice production insufficient to satisfy total demandFew farmers have financial savings from agricultural activities | Overfishing inflicts damage to reef and fishery resourcesOnly about half of the fishing households were able to save or keep a portion of their rentsMost of the catch of fishery households consists of lower value fishes | Since most forests are protected, forestry-based activities are small-scalePresent threats include illegal cutting for boat-making, lumber production, kingpin, fuel wood gathering and charcoal-makingForest stocks are expected to decrease if threats are not countered | Climate change triggers water-borne diseases like cholera and typhoid feverVector-borne diseases like malaria and dengue are sensitive to climatic changesPublic health infrastructure is limits to cater to increasing population (including tourists) |
| Implications on future economic growth | Self-sufficiency in producing rice is necessary to accommodate tourists | San Vicente will lose tourism opportunities if its coastal resources continue to be depleted | San Vicente will lose tourism opportunities if forests remain simply protected | Tourists will be encouraged to visit San Vicente if public health threats are not addressed properly |
| Opportunities | Expand the area for agricultural lands to achieve food self-sufficiency to cater to demand driven by tourismModernize farming practices and technology to increase productivity | Extend protection zones, rehabilitate depleted corals, implement moratorium on catching herbivoresRun after illegal fishing of external commercial vessels | Open up some parts of the forest area as revenue-generating national parks and agricultural land under sustainable ecological managementSustainably extract other raw materials from forests as a new source of livelihood | Upgrade and expand the health system to make it more accessible and responsive to the growing population and evolving health threatsIntensify public health education |
San Vicente, Palawan, Target Climate Change Adaptation Programs

|   | Agriculture | Coastal and marine | Health |
| --- | --- | --- | --- |
| Technical/Infrastructure | Construct more automatic weather stationsConstruct small-scale irrigation facilities | Build sea walls and dikes in Port BartonSet up early warning system for storm surge, typhoonsRestore and protect mangrove forests | Improve water supply systems to ensure clean, non-stagnant water to prevent water-borne diseases |
| Governance and policies | Introduce new livelihood (non-timber forest products)Establish farmers' field schools and programs | Monitor total fish-catchMonitor illegal fish catch practicesOrganize and strengthen fishing organizationsRehabilitate corals to enhance coral resiliency | Promote regular health check-ups and monitoringTrain on early detection, treatment of infectious water- or vector-borne diseases |
| Practices | Introduce new crop varieties, including hybrids, to increase tolerance and sustainability of plants to temperature, moisture and other climatic conditionsAlter cropping pattern/calendar and practices | Train for alternative livelihoodPromote private sector involvement in coastal planning and managementTrain and orient on disaster risk reduction and managementEnhance public information campaignCraft policies for water resource use | Train youth on public health and hygieneImplement zoning ordinance based on hazard or risk mapsIncrease enrollment in health financing facilities (PhilHealth) |
All local government units (LGUs) in the Philippines should become ecotowns, said CCC Assistant Secretary Joyceline Goco.
"We would like to bring this to other LGUs, but we need support so we can implement this in all LGUs. It's important to mainstream climate change adaptation into their land use plans," she said.
The Climate Change Commission has allotted P500 million of the People's Survival Fund to help LGUs kickstart their transformation into ecotowns. To increase this sum, the CCC is looking to tap other national government agencies, partner institutions, and international bodies.
But for now, the ecotown program is being pilotted in 17 other towns aside from San Vicente. These include Siargao Island in Surigao del Norte, towns in Eastern Samar, towns in the Upper Marikina River Basin, and Batanes.
Read more: http://www.rappler.com/science-nature/44533-san-vicente-palawan-ecotown