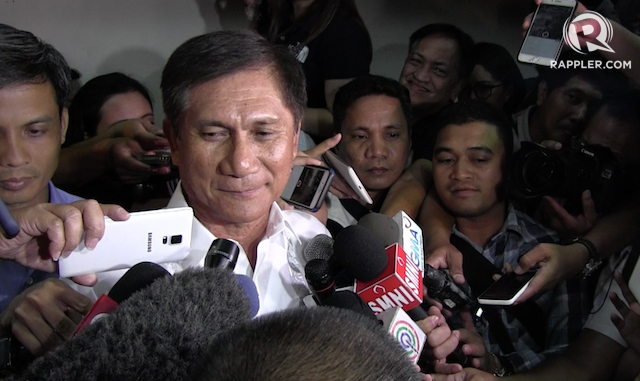 Denouncing recent attacks by suspected illegal loggers against forest-protection officers, Department of Environment and Natural Resources (DENR) Secretary Roy A. Cimatu bared plans to strengthen the agency's community environment and natural resources offices with the help of the military and the police forces.
"We will ask the military and police to train our foresters in security protocol and proper way of carrying firearms.  We are also studying if we can arm them while patrolling or when they are out to conduct arrest to protect and defend themselves if necessary," Cimatu said in a statement.
DENR Forest Management Bureau chief Director Nonito Tamayo earlier bared plans to arm over 2,000 forest-protection officers after recent attacks by suspected illegal loggers that led to the death of one and injury to another forest-protection officer.
He said forest-protection officers who will be armed will have to undergo training and secure the necessary permits, such as license and permit to carry firearms from the Philippine National Police (PNP).
Cimatu, a former chief of staff of the Armed Forces of the Philippines (AFP), has ordered DENR Mimaropa Regional Director Natividad Bernardino and provincial environment officials to hold a meeting with Maj. Gen. Galileo Gerard Kintanar of the AFP Western Command (Wescom) and Palawan Police chief Senior Supt. Gabriel Lopez to discuss cooperation in addressing the issue of illegal logging.
"Wescom will help the DENR conduct regular aerial patrol and strengthen joint operations against timber poachers, illegal loggers and kaingeros," Bernardino said.
"Apart from this, the Wescom will train our forest rangers and foresters on basic security measures, including the use of firearms for self-defense," she added.
The DENR chief visited the wake of slain barangay captain Ruben Arzaga in El Nido, Palawan, last Friday and honored him as a "Bayani ng Kalikasan".
"I salute Kapitan Ruben.  He sacrificed his life to protect our environment.  Because of this, we consider him a Bayani ng Kalikasan," Cimatu said.
The 49-year-old Arzaga, an active member of the El Nido-Taytay Managed Resource Protected Area Management Board, was shot dead by suspected illegal loggers whom he and a team of local environmental law enforcers were about to apprehend in Sitio Batbat, Villa Libertad, on September 14.
Two of the suspects were later arrested and charged with murder and four counts of attempted murder.
Arzaga's killing was the second attack on forest-protection officers by illegal loggers and timber poachers in Palawan in three weeks' time.
To recall, on August 23, a suspected timber poacher shot DENR forester Lito Eyala while he and his team were on patrol in the mountains of Barangay Bacungan in Puerto Princesa City.
Eyala sustained two gunshot wounds in his back and nape. He underwent a surgery to remove the bullet lodged in his right jaw.
Meanwhile, Palawan provincial environment and natural resources officer Felizardo Cayatoc deplored the attacks against forest protection officers, noting that illegal loggers have become more aggressive.
"Before, they only have bolos.  Now, many of them are armed with shotguns or homemade firearms.  We cannot allow our foresters and forest rangers to be sitting ducks amid the brazen attacks of those who destroy our environment," Cayatoc said.
"It would be impossible to accomplish our task of protecting the environment if our protectors are being killed; we need to equip them," he added.
Source: https://businessmirror.com.ph/denr-seeks-afp-pnp-help-to-enhance-security-protocol-against-illegal-loggers/