In December 1988, my aunt Mary Anne Mayor Ancheta read about a former American POW who survived torching by Japanese troops in 1944 in a prison camp on the island of Palawan. Mary Anne and her siblings Nellie, Bobby, Frank (my late father), Coney, Buddy and Lorraine were all born and raised in Palawan and their father, Col. Nazario B. Mayor, had been the commander of the Filipino-led resistance movement in all of Southern Palawan during World War II.
The daring escape from the inferno of the POW, Corporal Glenn McDole, and the heroism of all those who died in and survived the infamous Palawan massacre, were the subject of an article in the Green Bay Press-Gazette in Wisconsin, where Mary Anne lived. A nurse, she migrated to the US in the '60s, married Dr. Val Ancheta and raised their family in Algoma, Wisconsin.
She telephoned McDole's home in Des Moines, Iowa, on New Year's Eve, but her call went unanswered. So she left a message on the answering machine, but unbeknownst to her, it ran out of tape.
Robert Mayor and Nellie Mayor Loleng (third and fourth from left) receive a plaque of recognition and a commemorative medal for their father, the late Col. Nazario Mayor. With them in photo are (from left) US Department of Veterans Affairs' Christopher Warquez, retired Lt. Gen. Ernesto Carolina, Palawan Gov. Jose Alvarez and Oregon National Guard Brig. Gen. Steven Beach.
When McDole, who was to later author a book Last One Out about his Palawan experience and escape, heard that Mary Anne was the daughter of Colonel Mayor, who saved his life, he so wanted to meet her. But when she gave her phone number, the tape run out.
McDole made a public appeal for Mary Anne to contact him again, and fortunately, the appeal got to her. Their reunion was immortalized by the Associated Press, which run the story worldwide. I remember the awe I felt when I scanned the front page of the papers sometime in 1989 and saw my aunt's name there (my grandpa's name was misspelled as "Maziro Major.")
According to the AP dispatch, "The 51-year-old nurse was reunited with Glenn McDole, 67, in a room at ABC-TV offices in New York City shortly before they appeared on the network's Good Morning, America program."
"We cried and his children cried, too," Ancheta said. "But we were so happy."
"It was a great feeling," McDole said.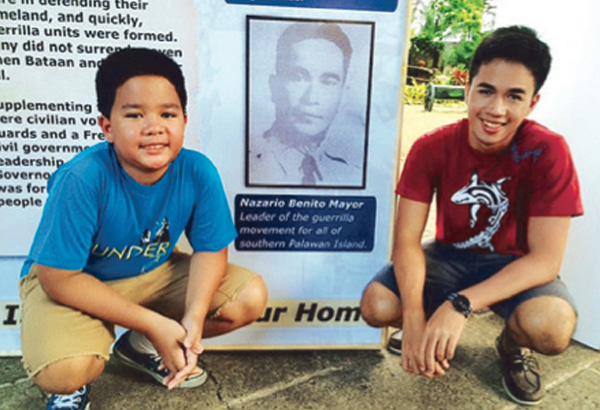 Nazario Mayor's great grandsons Joaquin and Mari Ferrer.
McDole related then that he was one of about 150 American prisoners at Palawan Prison when US troops landed nearby. The captors ordered the prisoners into long trenches, then threw gasoline and torches on them. About 20 prisoners broke through the side of a trench and scrambled down a cliff to safety, but many were shot before they could run away.
McDole was one of the 11 who got away.
My aunt was about seven when McDole took shelter in their home. My grandmother, an American namedMary (who met my grandpa in the US but chose to live with him in Palawan), cleaned his wounds. The family shared their food with McDole, who my aunt remembers was suffering from malaria, till he was strong enough to escape.
My Grandpa Nazario ("Zario") took care of his men and their cause. For love of country, he would risk his very life, even his family's well-being.  His bravery was legendary. He told his equally courageous wife, my Grandma Mary, to make sure she and the children were safe because even if the enemy took them hostage so he would surrender, he would not.
(The late Jesuit priest Fr. James Reuter made me understand more clearly this devotion to duty of soldiers. He said that when St. Ignatius of Loyola was asked to offer to God what he deemed most important to him, he presented his sword. Duty above all else was the most precious thing to him.)
Auntie Mary Anne and McDole called up my grandfather after they were reunited. He was 88 then, a widower.
And he, too, cried.
* * *
Palawan's role in the liberation of the Philippines is not underscored fully in history books.  But for Dr.Ricardo Jose of the UP Third World Studies Center, Palawan was one of the most strategic spots in the region.
 "It covers the western flank of the Philippines, it covers the West Philippine Sea, and before WWII broke out, the Americans didn't realize this. There were no significant fortifications in the area," he was quoted as saying by the Philippine Information Agency.
Palawan is actually one of the many places in the country with a grim past. According to published sources, on Dec. 14, 1944, American prisoners of war numbering 139 were massacred by Japanese forces in Plaza Cuartel. By jumping off a cliff, 11 soldiers survived and were kept from harm by Palaweños, Grandpa and Grandma among them.
 As part of the campaign to liberate the Philippines, US forces invaded Palawan from Feb. 28 to April 22, 1945. A Palawan special battalion composed of 1,000 Filipino guerrillas joined in on the action and helped liberate the island. Grandpa headed the guerillas of Southern Palawan.
Last April 21, my grandfather and all the valiant men and women who fought for the Liberation of Palawan 70 years ago were honored in Palawan's capital, Puerto Princesa, by two grateful nations, and their proud descendants.
My Auntie Nellie Mayor Loleng and Uncle Bob Mayor, both octogenarians, received the posthumous award for Grandpa Zario.
How privileged my cousins and I are that our life stories are intertwined with history — not just the Philippines', but the world's.
"Grandpa was proud to be a war veteran," recalls my first cousin Natalie Loleng Mijares. "He was a disciplined man. His clothes were neatly arranged in the closet, he made his bed every morning and it remained fixed during the day. His grandsons were like his soldiers, behaved and good boys when around him."
Grandpa's room was wallpapered with medals, which were a curiosity to me when I was a little girl. They no longer are a curiosity. They symbolize the wages Grandpa paid to redeem his country from the slavery of foreign aggression.
Today, I stand taller. Grandpa invested his blood so that this country would be free, and its people, free to be the best they could be. And his family, free to pursue that which makes them happy.
I can't love my country any less, even if it is printer's ink I spill on my everyday mission. (You may e-mail me at joanneraeramirez@yahoo.com.)
Read more: http://www.philstar.com/newsmakers/2015/04/28/1448588/hero-we-called-grandpa