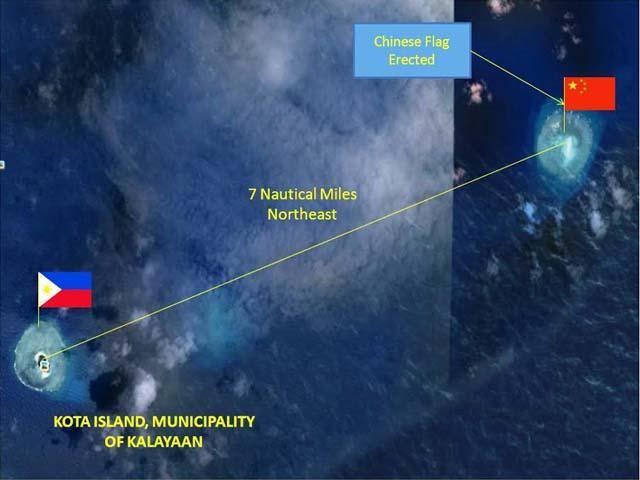 A Chinese flag was discovered planted on a sand cay located 7 nautical miles northeast off Kota Island, Magdalo Representative Gary Alejano claimed on Tuesday.
"It was discovered around third week of July 2017. A Chinese vessel allegedly erected the said 3-meter high Chinese flag on a sand cay which is known to be within a Philippine-controlled area," Alejano told a press conference.
Kota Island, part of the Kalayaan Islands off the Palawan coast, is controlled by the Philippines and is also being claimed by China, Taiwan, and Vietnam.
The lawmaker said China's continuous activities in the disputed waters in the West Philippine Sea are very concerning.
"These recently reported incidents only reveal that Chinese activities in the West Philippine Sea have not stopped amid warmer relations between the Philippines and China. Furthermore, this contradicts China's supposed commitment to peace and stability in the area through maintaining the status quo."
Alejano called on China, as part of the family of nations, to stay true to its public pronouncements and assurances by matching its actions on the ground.
He also hit what he called the government's "strategy of silence" as he disputed claims by the Department of Foreign Affairs that his statements offended China as these are mere assertions of Philippine interests.
Alejano also said that unlike China, the United States' presence in the disputed waters are just for freedom of navigation and the US does not encroach on any islands.
Alejano also reiterated his call for Philippine government officials, particularly the DFA, to be transparent on issues regarding the West Philippine Sea.
"Their denial or silence and inaction are not helping while things like these happen on the ground. While the Philippines is pursuing bilateral engagements with China, the government has the responsibility to inform the public through providing appropriate and careful information meant for public consumption," he said.
"The Filipino people are entitled to know to make sure that Philippine national interests are not set aside. Besides being an issue of territorial integrity, it also has immediate security and economic implications which definitely mean something to our fellow Filipinos living in the area," he added.
For Alejano, there are non-military and non-confrontational options to defend our territories and assert our rights as opposed to the confined and limited view of the President of going to war.
"For once, the President should not think of violent and forceful means to solve problems."
Last week, Alejano said he received information from his military sources that China has deployed 2 frigates, a coast guard vessel, and 2 large fishing vessels with their maritime militia about 1 to 3 nautical miles north of Pag-asa Island.
Pag-asa (Thitu), part of the Spratly group of islands, is located about 480 kilometers west of Puerto Princesa City in Palawan.
Foreign Affairs Secretary Alan Peter Cayetano downplayed this, refusing to confirm or deny the presence of Chinese vessels but assured that the department is constantly communicating with its Chinese counterparts.
"The presence of ships alone does not mean anything. For example let me ask Cong. Alejano, why were we not concerned about the US doing freedom of navigation? Ang lalaki ng ships nila. Kasi they are allies. If we keep looking at China as the enemy every time na may movement sila masyado tayo nagrereact," Cayetano said.
The top diplomat also downplayed the possibility of filing a diplomatic protest, saying the Philippines is focused on addressing the issue through a dialogue.
"In the past, it was our strategy to confront China every opportunity we have and the diplomatic protest is one of the instruments we used. That's not our strategy now. Our strategy now is to have peace and security and dialogue," he added.
Source: http://news.abs-cbn.com/news/08/22/17/chinese-flag-planted-in-island-off-west-ph-sea-alejano